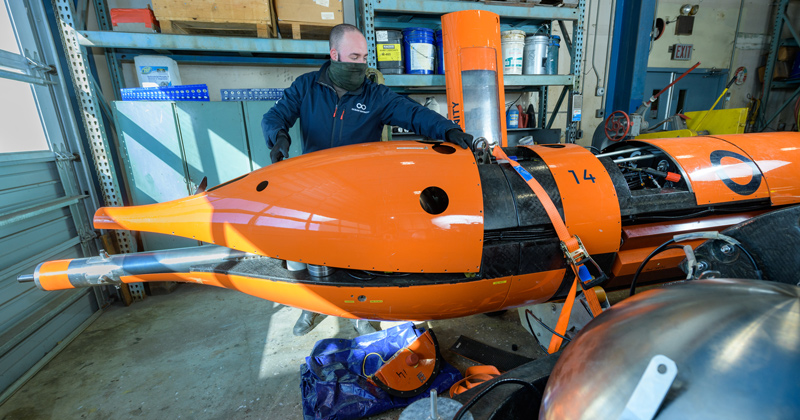 Adam Thomas article
Photos by Evan Krape
June 21, 2021
UD alumnus Bryan Keller reflects on his journey from IT to career on the ocean
As an undergraduate computer science student at Indiana University in Pennsylvania (IUP), Bryan Keller said he believed his life was all mapped out on a simple and straightforward path. First, he would finish his studies in computer science, and thereafter, he would find a stable job in information technology which would allow him to write code for a living.
This plan was thrown out the window soon enough, once Keller got a glimpse of what this life would be like.
"I received a good code writing internship in Harrisburg and was offered a full-time position after I graduated," Keller said. "But I did the cabin thing, working 9 to 5 and it was terrible. I realized that was not what I wanted.
Instead, Keller ended up attending the University of Delaware to earn his master's degree in oceanography, which would eventually allow him to find employment as an Autonomous Underwater Vehicle (AUV) and Surface Vehicle Operator. Autonomous (ASV) for Ocean Infinity, a world leading marine robotics company.
The sea road
Luckily for Keller, he had to take a natural science course as part of his computer science degree, and he ended up taking a basic oceanography course where he met Katie Farnsworth, an associate professor in the geosciences department at the 'IUP.
Through his talks with Farnsworth, Keller realized he wanted to have a career related to the ocean, but after spending four years on his computer science degree, he didn't want to spoil it.
"I had the opportunity to speak with Katie, and she actually had a background similar to mine. She had a bachelor's degree in computer science and then turned to marine science, "Keller said.
Through Farnsworth, Keller was introduced to Art Trembanis, professor at the School of Marine Science and Policy at UD, who had visited IUP to talk about his work using AUVs to collect data on coral reefs. surrounding the Caribbean island of Bonaire.
When it came time to apply for graduate schools, Keller decided to go to a graduate school in oceanography or marine science and focus on the robotic side of things. He applied to UD and was accepted with Trembanis as an advisor.
At UD, Keller worked on the Bonaire Coral Reef Research Project of Trembanis for his Masters thesis.
"I processed all the data from that job, used it for my thesis, and then I was able to go to Bonaire for two weeks and do a ground check of my data by diving up to four times. per day, which was awesome, "Keller said.
His time at UD and the Trembanis connections opened many doors in the industry for Keller and after graduation he was able to secure employment with UTEC Survey, an independent provider of offshore and onshore surveys.
"I didn't even know jobs like this existed until I met Art and he introduced me to what it could be," Keller said. "I just knew that if I took computers and the ocean and put them together with these remote systems, there had to be a job somewhere. But it was really art and university that opened the door to enter the industry and what you could do with it in terms of your career. "
This work at UTEC has led him to complete AUV surveys all over the world with jobs in Nigeria, Angola and also Australia.
After nine years at UTEC, Keller decided to join Ocean Infinity (OI) in 2019.
With OI, Keller works on the ocean for sometimes up to 12 weeks at a time, working on a boat that is 450 feet long and can hold up to 102 people.
OI launches multiple AUVs at a time to do their underwater surveys – the maximum they've ever sent at the same time is eight – and after launching the AUVs, Keller and his colleagues will program what they want the AUVs to be. do, where they want them to investigate and which sensors they want to activate.
"Basically it comes down to mapping the seabed," Keller said. "We drop this system in the back of the boat and watch it as it dives to the bottom. The AUVs we work with are rated at 6,000 meters deep, and we usually work close to that.
Keller will drive an AUV to the bottom of the seabed, then put it into autonomous mode. The programmed AUV will know where it is supposed to go and what area of ​​the seabed it is supposed to cover. It will run about 100 hours on its batteries before being recovered. AUVs operate at 3.5 knots, so Keller and his fellow operators know approximately what area they can cover in 100 hours.
Dropping multi-million dollar equipment on the seabed can be a bit scary, and Keller said one of the axioms of AUV operators is that the drilling is good.
"If something exciting is going on, something is wrong because it's a completely unmanned system," Keller said. "You let him go, you let him do his thing."
Overall, Keller is happy to put his computer science degree to good use and work with robotic equipment on the ocean, forging great relationships with fellow shipmates, rather than being stuck in a cabin. writing code.
"In the last 10 years or so that I've done this I've been to 32 different countries, six of the seven continents, and I've sailed almost every ocean and sea," Keller said. "There are definitely things I crossed off my bucket list. "
OI and UD
OI has signed a memorandum of understanding with UD and now, as OI expands its partnership with UD and looks to launch more operations in the United States, Keller is delighted to be back on campus to work again with Trembanis.
Specifically, Keller and Trembanis are working to set up four state-of-the-art ASVs at UD's Lewes campus to provide students and faculty with hands-on learning opportunities while allowing OI to tap into the at UD to see how he can advance the capabilities of ASVs. To learn more about college-business collaboration, please read this UDaily story.