Google Maps helps families reconnect with deceased loved ones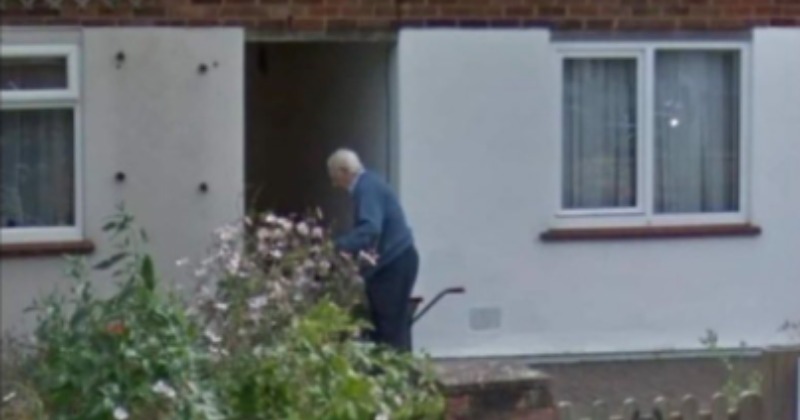 The loss of a loved one is the most painful thing one can encounter and nothing can compare with it. Their loss creates a void that can never be filled, leaving only memories of a time that will never return.
But, a few months ago, people found out that Google Maps and Street View are helping people reconnect with loved ones who are no longer there with them. While exploring the places where deceased loved ones once lived, people were able to see photos of their deceased loved ones living their lives, doing everyday things – walking or just basking in the sun.
Another heartwarming example was shared by a Twitter user named Karen. She shared a photo from Google Maps where she could see her now deceased father gardening at his house.
She captioned the photo: "My dad died 3 years ago, but on Google maps he still does the gardening he loved."
My dad passed away 3 years ago, but on Google maps he still does some gardening that he loved. pic.twitter.com/fCEFmmn7fD

– Hippie chick in Cornwall (@ KarenBu32946258) June 17, 2021
Many other users have shared images of their deceased loved ones on Google Maps and how it brightened up their day.
My father also passed away three years ago and Google search shows him working on the lawn. pic.twitter.com/gmnudxmtDY

– Wendy Nussbaum (@WendiceNuss) June 19, 2021
My grandfather is also always on Maps when I search for his address. Working on his Corvette, which he loved. He was actually looking at the camera so they must have blurred his face. He passed away almost 2 years ago now. ❤️ I'm sorry for your father. pic.twitter.com/ogikeOLYux

– (@KwehDoink) July 3, 2021
lost my old daddy 2 years ago, but here he is still, in the garden with a friend pic.twitter.com/NMKAfCgezG

– ziggy (@ 4squaremiles) June 18, 2021
Dad passed away last winter, but Google captured him walking the dogs in 2010 💚 pic.twitter.com/gNqdu3KuBy

– Poofy Forest Dragon (@Swededweeb) June 18, 2021
My mother died in 2018 at the age of 60 from cancer. Here she is checking her school bus at the school gates in google maps today.
I miss her so much 😥💔 pic.twitter.com/07tplMbT47

– Tatiana Fache @ 🇨🇴 (@tatiana_fache) June 20, 2021
Our cat Molly, whom we sadly lost earlier this year, showed up on Google Maps, just looking to see what was going on! pic.twitter.com/K1wrO0VVoP

– Ian Golden (@Ian_Golden) June 19, 2021
Many people have been amazed by this feature.
It's very cool. 🙂

– Mark Salke (@marksalke) June 19, 2021
Adorable x

– Sherri Turner (@ STurner4077) June 17, 2021
OMG! 🥺 pic.twitter.com/KU0bHTWBDD

– Healthy ASF 𓂀 (@KINGTANIAH) June 18, 2021
It's beautiful.
Unfortunately, it works both ways. Street View took a photo of my daughter at a horrible time in her life. She pulls away from the camera, her shoulders slumped in a way that still breaks my heart, although she is much better now.

– It doesn't matter here (@halmot) June 18, 2021
It makes me want to have a screenshot of the Google Maps image where my high school age daughter was mowing the lawn. Such a sweet and unexpected memory!

– Robin Smith (@ RLSmithBiz1st) June 18, 2021
♥ ️ ♥ ️ ♥ ️ ♥ ️ ♥ ️

– Spirals laughs at his own jokes (@copper_teal) June 18, 2021
Move to Google Land to be with him x

– h (@ nocomment747) June 17, 2021
This brief time travel is a previously unknown feature offered by Google, it changes the lives of some and allows many to keep the memories of a loved one alive in a whole different way.