SFIAplus V8 – embrace the digital evolution!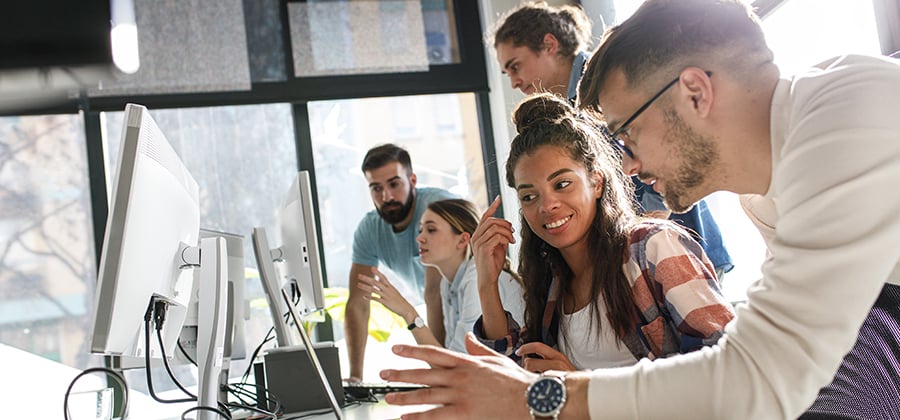 Artificial intelligence streamlines resources while enabling faster and more accurate decision-making – and blockchain technology helps remove barriers in the supply chain, increasing levels of visibility, security and control.
With the right people on your digital team, the opportunities for digital transformation abound, each with the potential to propel your business to the forefront of the game. But with the diversity of talent you will need on your side and a landscape of skills arguably more complex than most, tidying up your digital home can be a challenge for even the most astute IT manager.
What you need is a framework that covers the breadth and depth of our rapidly evolving industry, which allows you to identify your team's digital capabilities, organize your skills resources, and plan for development and growth. You need SFIAmore V8!
A framework for today's industry
SFIAmore V8 is the skills, training and development standard based on the Skills Framework for the Information Age (SFIA). SFIA describes the full range of skills needed in the IT industry, detailing a set of tasks for each skill, positioned on SFIA levels 1 through 7. Developed and maintained by the non-profit SFIA foundation, it provides a benchmark model global for IT skills and a common, accessible skills language that IT teams and individuals can share, as well as your HR and L&D functions. The SFIA ecosystem brings together the international IT community in a collaborative effort to keep the framework up to date and in September 2021 it released its latest edition, SFIA 8.
Developed by BCS and built around the SFIA model, the SFIAmore framework adds detailed training and development resources to each SFIA skill and task component – turning a two-dimensional matrix into a living framework that individuals and teams can apply in the real world to plan and develop their capacities. SFIAmore has been growing and evolving with the industry for decades and following the latest SFIA update, BCS has just launched SFIAmore V8.
What's new for the V8?
Along with the nascent technology of the three years since the last update, SFIAmore The V8 has significantly increased in width and depth. Under its six skill categories, there are now the brand new sub-categories of Security and confidentiality, Data and Analytics, Computer Science and Security operations.
There has been a sharp increase in the number of skills – V8 offers 23 new skills in areas ranging from Scientific modeling To Feasibility assessment and Investment valuation. Four skills were removed, bringing the total to 121 and the addition of 100 new tasks brings the total to 494.
But that's not all. As part of the V8 update, BCS subject matter experts looked at all existing and new skills, realigning a number of task components in the process and adding additional levels to some of the existing skills. All training and development resources were also checked for update, checking for changes to course titles, web links, or skill requirements.
The result is the most comprehensive and accurate definition of the skills and activities that make up today's evolving technological landscape.
But what does this mean for my organization?
The updated SFIAmore The V8 framework helps you implement a digital strategy that integrates cutting-edge technologies, such as AI and machine learning, data analytics, and high performance computing. It also helps you build the essential capacities that underpin digital transformation, in areas such as cybersecurity, business analysis, and change management.
You can use the framework to identify highly focused skill development for your team, which incorporates the latest industry best practices, methodologies, and tools, and is aligned with the broader goals of your business.
For example, you know that data is at the heart of digital transformation but are you currently optimizing its use in your company and do you understand the practical implications for your team? Under the new Data and Analytics subcategory, there are now four new skills that can help you harness your organization's most valuable asset, including Data science, Business intelligence, and Data engineering.
Using the role modelmore A skills platform, the V8 framework will allow you to undertake a progressive skills gap analysis, giving you a clear view of your existing digital landscape and areas of interest for recruiting. Once you have identified your skills gap, via RoleModelmore, the framework provides you with the basis for creating accurate job profiles to support your recruiting strategy.
We all need a role model
SFIAmore is updated regularly for accuracy, but for a skill matrix of this size to be truly effective, it must also be easy to use and it must deliver practical and tangible benefits in the workplace. A step forward RoleModelmore.