Missing phone data could be key to Belgian backpacker Theo Hayez's disappearance, investigation finds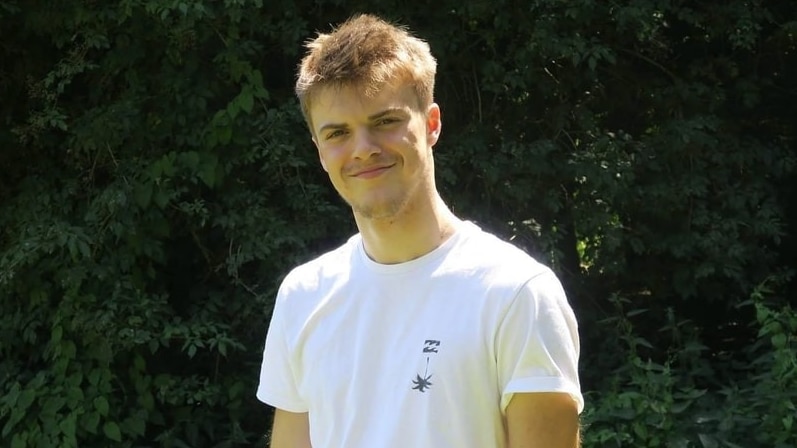 A coronary inquest into missing Belgian backpacker Theo Hayez learned his family were extremely upset to learn that he was kicked out of a Byron Bay nightclub alone the night he went missing.
Key points:
Investigation has learned that the way Theo was kicked out of the nightclub caused concern for his family
The lawyer assisting the coroner said Theo was kicked out on his own, with no chance to tell his friends
Theo has been described as a 'type of family' who was close to his parents
And hours of missing data on his cell phone could hold the key to what happened, it was learned on the first day of the hearing at the local court in Byron Bay.
Theo was last seen leaving Cheeky Monkeys nightclub in Byron Bay on May 31, 2019.
Data from his phone showed he had searched for the route back to his hostel on Google Maps, but had walked in opposite directions towards Tallows Beach, near the Cape Byron Lighthouse.
The investigation has learned that the manner in which Theo was kicked out of the nightclub caused concern for his family.
"Theo's eviction on his own, and without a chance to tell his friends about it, caused tremendous distress to his family," said Kirsten Edwards, assistant coroner counsel.
In her opening statement, Ms Edwards said Theo was a "family boy" who was close to his parents and presented himself as a funny and adventurous young man.
She said he had traveled across Australia but was eager to return home to Belgium to begin "the next phase of his life", studying planned engineering.
The inquest also heard that Theo had stopped for seven minutes near the cricket nets where drug addicts are known to hang out.
Belgian authorities used a technique known as geo-fencing to search for other cell phones in the area.
But the finer details of their research cannot be shared without a legal aid treaty that the coroner's court cannot activate for a missing coronary inquest.
"It is an unacceptable situation that we cannot access what could be critical information about what was going on that night," Ms Edwards said.
"His phone stopped receiving data at that point from the Telstra towers, either because it was out of range, or because it was out of range, or because it was turned off or put in airplane mode. .
"At 6:17 am the phone started to receive data again. That means at least the phone didn't enter the water," she said.
The family wants help from the government
Earlier, Theo's father, Laurent Hayez, had said he would like the NSW government to hand over an award for information about his son's disappearance.
His mother, father, brother and grandmother were granted exemptions to travel from Belgium to Australia for the investigation.
His godfather Jean-Philippe Pector and his cousin Lisa Hayez also traveled from the highway to Byron Bay with the rest of the family for the hearing.
Mr Hayez said the family wanted his disappearance to be fully investigated.
"We strongly believe that Theo could not have been alone after leaving Cheeky Monkey's Bar," he said.
"We also hope that an award will be offered by the NSW government to encourage anyone with relevant information to come forward.
"We came here to find out what happened to Theo.
"Until the end of this hearing, we hope that the current inquest will continue under the direction of the coroner and that there will be a re-examination and consideration of all the details at a higher level."
Mr Hayez said it had been a long and emotional journey to begin the investigation.
"The community is close to the heart of Theo and the outcome of this investigation matters to everyone, not only here, but also in Belgium and around the world," said Hayez.
The inquest is taking place at the Byron Bay courthouse before State Magistrate Coroner Teresa O'Sullivan.