Report Proposes Steps to Protect Bayfield County Wells Following Bottled Water Proposal | Local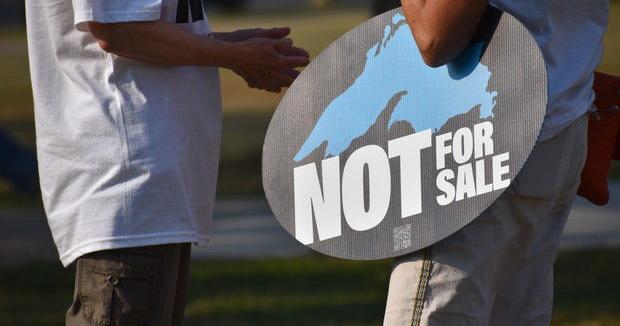 A new report recommends ways to protect an artesian aquifer in Bayfield County following a controversial proposal to bottle and sell water from an artesian well in a Lake Superior watershed that is currently being challenged before the courts.
Residents and tourists have long been drawn to the area's artesian wells because they do not require pumping. Water naturally flows to the surface under its own pressure.
The document released by the Mary Griggs Burke Center for Freshwater Innovation at Northland College in Ashland lists four recommendations for Bayfield County, which is facing litigation in Barron County Circuit Court over its denial of a special permit to land use for Duluth-based water startup Kristle KLR.
Kristle Majchrzak, the company's founder, seeks to capture and sell water from an artesian well on property she and her father own in the town of Clover. The water would be transported to Superior to be bottled and sold.
— County officials map its artesian aquifer
– Officials say this is an area of ​​particular concern once mapped
– County passes new zoning regulations in its Artesian Zone
– State considering Minnesota-like water management framework
Kristle KLR's proposal highlighted the water management implications of the state's artesian water resources. Peter Annin, director of the center, said the report outlines artesian systems and springs across the state that have been depleted or disappeared in the face of development and overpumping.
"The people of Bayfield County have really made it known that they don't want this to happen in their area," Annin said. "In many ways, Bayfield County may represent one of the last intact and thriving artesian systems in the state."
A 2007 survey by the Wisconsin Wildlife Federation identified nearly 11,000 springs statewide and found that up to 1,000 have dried up.
The report notes that the artesian wells in Green Bay and Prairie du Chien once shot water about 60 or 100 feet into the air, but are now a shadow of their former state or non-existent. In Waukesha, tourists once flocked to "Spring City" in the late 1800s. Now the vast majority are gone, and the city has long struggled with radium contamination in its wells.
That's not the case in Bayfield County or northern Wisconsin, said Ken Bradbury, director and state geologist of the Wisconsin Geological and Natural History Survey.
"This part of the state is more like the historical conditions that happened in the rest of the state years ago, but we don't see anymore," Bradbury said. "It's kind of a neat museum, almost a museum of how the groundwater system was in other places."
Bradbury noted that excessive drawdown of underground aquifers can make them more vulnerable to contamination, as it can alter the way water flows. In Madison, groundwater under parts of Lake Monona and Lake Mendota used to flow into it, but is now seeping downward to recharge the aquifer.
Kristle KLR's proposal is very small compared to other withdrawals. The well Majchrzak wants to operate is flowing at a maximum rate of 7,200 gallons per day. This is well below large-capacity wells that draw 100,000 gallons or more per day, which have sometimes dried up or reduced the flow of rivers and streams in the Central Sands area.
Even so, the proposal has caused backlash among county residents with more than 1,600 comments submitted to authorities this summer urging them to deny a permit. Opponents fear it threatens the region's water resources, tribal treaty rights and opens the door for big companies to extract water.
Critics of the proposal have also said the project exploits a loophole in the Great Lakes Compact – a landmark agreement that prohibits the diversion of water outside the Great Lakes basin. This allows pond water to be removed in containers of 5.7 gallons or less, allowing local and state governments to monitor small withdrawals.
The Wisconsin Department of Natural Resources only regulates withdrawals from large capacity wells. Still, Majchrzak's attorneys argue that oversight of the project's well rests with the state, not the county. County prosecutors argue they weren't regulating the well, but rather the county's authority over land use.
Former DNR deputy secretary Todd Ambs, who retired in December, said he believed the county would be free to adopt new artesian water zoning regulations.
"All the time, local jurisdictions make zoning decisions based on the wants and needs of their particular jurisdiction, so there's nothing stopping them from doing that in this case," Ambs said.
Bayfield County Council already voted in the fall to change its zoning ordinance to bar bottling plants. County officials have also requested a $20,000 grant to begin mapping water wells.
Ambs noted that Minnesota regulates groundwater withdrawals at a lower level of 10,000 gallons per day. The state also has a groundwater plan that aims to improve groundwater data and partnerships, as well as ensure that authorized withdrawals are sustainable.
A 2004 Groundwater Quantity Act that expanded state authority to consider the impacts of large-capacity wells was meant to be a first step to better regulate groundwater withdrawals, Ambs said. . After nearly two decades, he said the state should "up its game" in determining the next steps in terms of additional state regulations.