Human genetic evidence supports two-thirds of FDA-approved drugs in 2021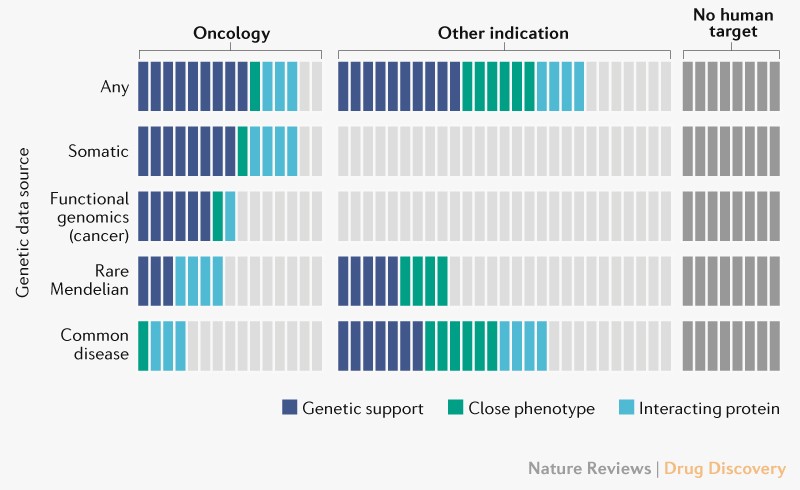 In 2021, 50 drugs were approved by the FDA's Center for Drug Evaluation and Research, continuing a period of improved productivity. Reflecting on the past observation that drugs targeting targets supported by human genetic evidence are more likely to progress through clinical trials, we investigated the proportion of new approvals that can be retrospectively explained on the basis of genetic information. accessible to the public using a combination of systematic mapping and manual curation (see Supplementary Information for details). We conclude that for 33 of 50 (66%) of new drugs approved by the FDA in 2021, genes encoding their primary assigned targets, or proteins known to physically interact with those targets, have already been associated in some way with the indication for which the drug is approved or a closely related phenotype (Fig. 1; Supplementary Fig. 1; Supplementary Table 1). Here we discuss the value of underlying DNA evidence in the context of examples from the Approval List.
One of the most popular approaches used to identify genetic signals associated with disease traits remains genome-wide association studies (GWAS). However, the interpretation of GWAS signals in a drug discovery setting often requires the integration of multiple layers of genetic and functional genomic data combined with clinical insights into the molecular and phenotypic characteristics of the disease. Finerenone, an NR3C2 antagonist approved in 2021 for the treatment of chronic kidney disease (CKD), illustrates both the opportunities and challenges of developing a therapeutic hypothesis based on genetic evidence. GWAS and functional genomic analyzes suggest that an intronic variant in NR3C2 is associated with microalbuminuria – an early sign of CRF. The exploitation of the genetic data available for the prioritization of targets depends on the establishment of the mechanistic link between the variant associated with the trait and NR3C2as well as the evaluation of the clinical relevance of microalbuminuria for patients with CKD.
In other examples, approved drug targets have no direct genetic evidence but interact physically or functionally with a genetically implicated gene product. For example, anifrolumab, an IFNAR1 antagonist, was approved in 2021 for the treatment of systemic lupus erythematosus (SLE). Although we found no direct genetic evidence to support the association between IFNAR1 and SLE, missense variants of TYK2 – a kinase that physically interacts with IFNAR1 – have previously been associated with SLE. Thus, genetic associations with interacting partners can provide indirect evidence for a suitable target, and this example highlights the potential utility of pathway and network data for interpreting human variation in the context of disease.
In oncology, the identification of the most specific biomarkers maximizing drug efficacy continues to be facilitated by the increased depth of tumor genome characterization. Thus, four of the oncology drugs approved in 2021 are indicated for patients with lung or bile duct cancers with somatic variations of EGFR, kras Where FGFR2. Sotorasib provides an interesting example, where the drug modality is specifically designed to treat patients with krasG12C non-small cell lung cancer. Genetic stratification of patients is also increasingly common for rare Mendelian diseases. Casimersen antisense oligonucleotide is indicated in patients with Duchenne muscular dystrophy harboring DMD variants likely to skip exon 45. When expanding to all rare indications, we found no increased genetic support in the 26 approvals receiving FDA orphan drug designation compared to non-orphan drugs.
Detailed interrogation of successes and failures with or without genetic evidence over an extended period could provide a more complete picture of the relative importance of genetics in drug approval. Although genetics may not have influenced the decision-making behind some of the genetically-backed approved drugs, the availability of such evidence may retrospectively help to understand the causal mechanisms behind their therapeutic efficacy or safety. In the future, the positive results of genetically supported therapeutic strategies will need to be rigorously evaluated to avoid the risk of confirmation bias.
Competing interests
The authors declare no competing interests.