Drivewyze adds severe weather alerts to Safety+ in-cab platform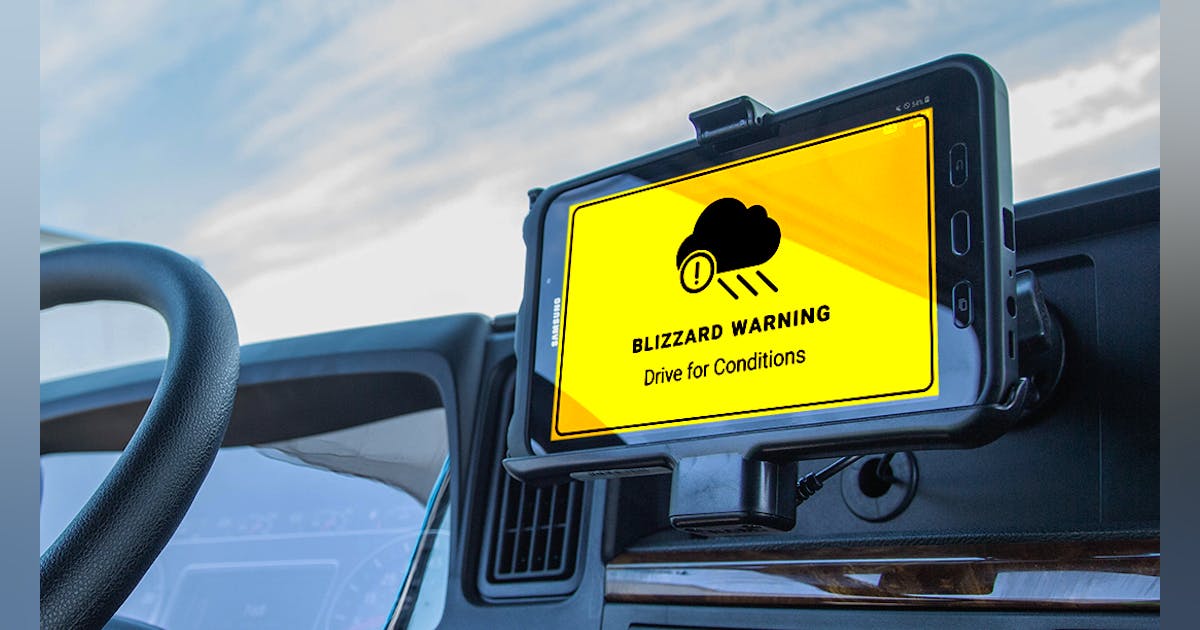 Extreme and unexpected weather conditions can create unforeseen delays and dangerous situations for fleets and drivers. Provider of solutions for connected trucks Drivewyze added real-time weather warnings to its Drivewyze Safety+ driver notification platform to warn drivers to slow down, change routes or stop based on gravity and weather conditions.
CR England (No. 34 on the Fleet owner 500: Top For-Hire Fleets of 2022 list) was a beta tester of the service rolling out this month to all Drivewyze Safety+ customers. "In Texas, for example, we used to provide heavy rain alerts to prepare our drivers for bad weather," said Gerardo Granados, a member of CR England's safety department leadership team. "The alerts were well received and the proactive alerts provided 'foresight' – minimizing risk to our drivers is something we always try to do."
See also: Leveraging Technology in These Challenging Times
The Severe Weather Alerts feature works up to 50 miles from severe weather. Alerts are issued if drivers might encounter conditions on their route. Alerts end when the weather threat passes. Safety+ is an always-on service that does not require third-party navigation.
"We've already created a library of alerts that cover things like high turnover areas, areas with high speed citation counts, high cargo theft areas, and this is the newest addition to this library", Alexander Bertoni, Drivewyze brand marketing director, says Fleet owner. "We worked with the National Weather Serviceand we use NOAA The data. So instead of drivers needing to check a weather app before starting a route, we have geo-fenced areas that alert them within 50 miles of a severe weather incident in progress.
According to the latest data from the Federal Motor Carrier Safety Administration, weather played a role in 20% of heavy truck crashes that resulted in death and 12% that resulted in injury. It also created 13% property damage.
"Drivers have a tough job with traffic, weather and delivery windows," Granados noted. "Anything we can do to help them, we want to do. The Severe Weather Alerts that Drivewyze now offers are a great add-on tool that we are excited to use. »
After more than 60 types of severe weather alerts are included in the new Safety+ update. Alerts include warnings, watches and advisories for blizzards, dust wind, fire hazards, fog, smoke, floods, freezing, heat, hurricanes, ice storms, snow, thunderstorms, tornadoes, wind and even volcanoes.
Drivewyze Safety+ works in the background on supported ELD devices so alerts are always on. The Severe Weather Alerts feature will roll out to all compatible ELD devices in August. In-cab alerts with messages such as "Snow squall warning, drive according to conditions" display on the ELD.
Alert technology developed with fleets
Before Drivewyze issued severe weather alerts on August 15, CR England and Western Express used Safety+'s 'custom' geofencing feature to create their own manually created driver weather alerts.
Western Express (No. 34 on the Fleet owner 500: For-Hire list), which has over 3,500 power units, has beta-tested the technology in five of its regions. "Our regional teams implemented alerts and we focused on major highways, advising our drivers of incoming snow, for example, or where snow chains were needed," said Daniel Patterson, director Western Express security.
See also: How truckers can save time during a roadside inspection
He also asked the fleet to include alerts when states do not allow empty trailers to be transported due to weather conditions. "All of these winter weather alerts that we put together helped our drivers – they appreciated the notifications," Paterson added. "In the summer, we issued heat advisories, which was very important for our flatbed drivers. We wanted them to stay hydrated and not have any heat-related health incidents.
According to Granados, time is the enemy of any fleet. "Security is a core function and it is embedded in the culture of CR England," he said. "When we started using Safety+, we took advantage of geolocation for weather. We have a fleet of 4,000 trucks, so we started identifying our busiest lanes, providing our own weather alerts to our drivers, taking information from the National Weather Service and other sources.
Dealing with the unexpected on the road
"Weather can change by a dime and we work with partners to use high-quality, real-time data that impacts real-world driving conditions," said Drivewyze CEO Brian Heath. "Our platform allows us to take this critical information and deliver it immediately to drivers. Providing early warning of extreme and severe weather conditions helps protect truckers and others on our roads. »
Drivewyze Safety+ also provides drivers with alerts for high rollover zones, low bridges, mountain passes (steep inclines/runaway ramps), real-time congestion, speed (areas known for high quotes) , cargo theft (high alert areas) and rest areas (parking availability). Drivewyze Safety+ also allows fleets to create custom geolocation and alert notifications. A web portal allows fleets to track the impact of alerts for driver coaching.
"While all of the alerts we offer are designed around driver safety, we believe severe weather alerts are extremely important as the weather is often a contributing factor to an accident – which is why it's something that fleets and drivers have asked Drivewyze," Heath said. "These alerts give drivers 'eyes' on something they can't see in front of them. They are a way to protect drivers, the motoring public, and the cargo and company they work for. It is an essential element to make a fleet safer.